Are you looking to print high-quality EAN 13, Code 39, I2of5 , Code 128, UCCEAN (GS1-128), UPCA, I2of5, GS1 Databar 14, PDF417, QR Code, or DataMatrix barcodes for your business? If so, you have come to the right place. We offer a complete and professional barcode software and fonts package, ConnectCode, to help you with your design and printing.

ConnectCode can be used independently with our software Encoder or other software such as your text editor, graphics software, Excel, Access, Word, Crystal Reports, Reporting Services, Oracle, App for Office, and Visual Studio projects. The fonts are field-tested and have proven to be extremely flexible in meeting your business's changing demands.

Our products are designed with simplicity in mind and do not require you to invest significant time and effort. We also hope to provide you with good support by treating your satisfaction as our paramount goal.



Barcode Software and Fonts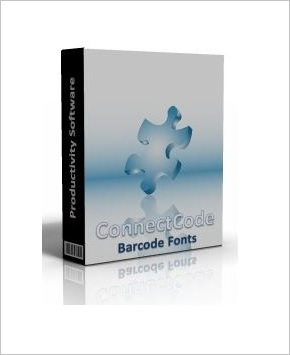 Product Details
Barcode supported
Code 39/93
Code 128
UCCEAN/GS1-128
UPCA/EAN13
ISBN/ISSN
Industrial 2 of 5
I2of5/ITF14
Modified Plessy
GS1 Databar (14/Stacked/Expanded)
POSTNET
Codabar and more....
I have used several bar code font applications over the past 20 years and found that ConnectCode is the cleanest solution I have found. It works perfectly with Crystal Reports and doesn't have any issues embedding the bar code fonts into a PDF. –T.M. (BrassCraft)

ResMed is a signatory to GS1 so the support of these barcode formats is very important. I showed this to one of our IT staff and he commented that it was better than anything they had. –Dr P.S. (ResMed Ltd)

We chose to use your product because it installed flawlessly into excel and we were able to document the creation process so that staff can produce the barcodes in 4 simple steps. –Edgar (CTO - Record Guardian Inc.)

The font allows for the barcode to be consistantly sized and placed regardless of what data the initial page of the document uses to generate its code. –Glyn Rowling (Amethyst Mailing)




v11.6 - New Version supports Office 365 Barcode Add-In, WinUI, .NET Core 3.0, T-SQL, Blazor, Angular, Web Open Font Format 2 (WOFF2), PowerBuilder, COM, Crystal Reports, .NET Standard 2.0, React, WebAssembly, Barcode & Label app, Oracle PL/SQL, Report Builder, TypeScript, Reporting Services, SQL Server Data Tools (SSDT), Javascript, Excel, Word, and Linux.



Ths fonts package's versatility makes it easy for you to enable barcodes in office applications, third party software/app, graphics applications, databases and reporting software that support text display. ConnectCode comes bundled with an advanced software Encoder that helps you validate data input, generate check digits, and add start/stop characters. A unique feature creates images out of the barcode fonts while giving you flexibility in setting the resolution, dimensions, and boundaries of the resulting bitmaps. There are also Word/Excel Macros, Oracle, and Crystal Reports formulas included to carry out the Encoder's tasks mentioned above. Sample source code also provides a reference implementation of the Encoder if you are thinking of bundling our fonts with your application.

Our products come in various licenses so that you can choose to use them on a single computer, in unlimited computers in your organization, or for bundling in your applications. Our products come with free technical support from our experienced staff.

Free barcode fonts (v5.0) are also available for download on our website.


2D Barcode Software and Fonts

PDF417, QR Code and DataMatrix

PDF417 is one of the earliest and most widely used 2-dimensional barcode. It is a stacked barcode composed of rows of linear barcodes. Being a 2-dimensional barcode allows it to carry more information than the 1-dimensional barcodes.

QR Code (Quick Response) is a 2-dimensional barcode consisting of black square patterns on a white background. The barcode is capable of storing more information than a conventional barcode. It is developed by Denso-Wave and is one of the more popular 2-dimensional barcodes.

DataMatrix is a two-dimensional matrix symbology made up of square modules arranged in a square or rectangle-shaped pattern. This barcode is capable of packing a large amounts of data and has the capability of recovering the original data encoded even when it is partially damaged through an error correction technique.

MICR E13B and CMC7 Fonts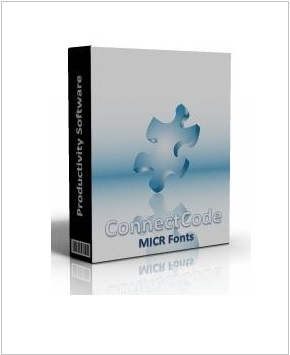 Product Details

MICR E13B Font

This is a Magnetic Ink Character Recognition font based on the E13-B (ISO 1004) industry standard for check processing. E13-B is widely accepted in the US, Canada, Australia, and many other countries. The character set of this standard comprises of ten numbers (0..9) and four special symbols (Amount, Domestic, BSB, and Dash). The font package includes TrueType fonts, Calibration fonts, PostScript fonts, and OpenType fonts.

MICR CMC7 Font

This is a Magnetic Ink Character Recognition font based on the CMC-7 (ISO 1004) industry standard. CMC-7 is a widely accepted standard throughout Europe, South America, and many other countries. The character set of this standard comprises of ten numbers (0..9), five special symbols, and twenty-six letters.

Free Security Fonts

This is a free security font used to print text and amounts on secure documents e.g., a bank check. The secure documents require capabilities to prevent forgery and easy alteration.


Barcode & Label App - Windows Store

Barcode & Label is a label design and barcode printing app for Windows. It subscribes to the principles of elegantly simple user interface design and enables users to produce Address Labels, Inventory Tags, Price Labels, and Business Name Cards quickly and easily.

The app is bundled with over 900 industry label stock templates and 150 clip arts and generates commonly used barcodes via font technology. It also supports vector shapes such as rectangle, ellipse, line, and static and dynamic text/barcode fields. Users will be able to retrieve the address and contact information from the Microsoft Excel and People's app with just a few taps and have the information printed out in a snap.



Label Software - Windows Dekstop

ConnectCode Label Software is an industrial strength label printing application with a What-You-See-Is-What-You-Get (WYSIWYG) user interface for the Windows desktop. It is equipped with over 1000 industry label templates, supports all commonly-used 1-dimensional barcodes which can be printed using inkjet, laser, multi-function, thermal and thermal-transfer printers. It is one of the most innovative label printing application in the market with advanced capabilities such as International Text, Duplex printing, TWAIN image acquisition and label templates management.



.NET Barcode SDK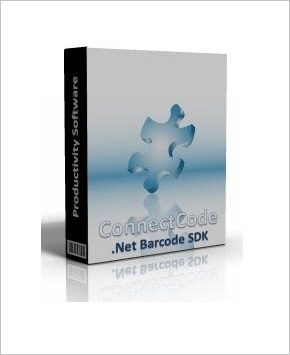 ConnectCode SDK is an advance and modern .Net compliant barcode generation Software Development Kit (SDK). It supports all commonly used linear barcodes in the industry including the modern GS1 Databar and is one of the most flexible barcode SDK available.

This Barcode SDK is uniquely designed to achieve maximum scalability and flexibility for your project. Due to this unique design, it is so powerful that you can use it to create barcodes for almost any scenarios in the Windows Operating System.

HTML Barcode SDK - Open Source

The HTML Barcode SDK is an Open Source HTML and Javascript barcode generation Software Development Kit. It creates commonly-used 1 dimensional barcodes like Code 128, Code39, UPCA, EAN13 and others using pure Hypertext Markup Language (HTML) and can be used in a wide variety of browsers without additional browser plug-ins.



Barcode Software Image Generator

ConnectCode Barcode Imager allows you to generate professional barcode images that are highly scannable. These images can be opened in other applications for futher layout and printing. ConnectCode Imager supports popular image formats including Portable Network Graphics, Graphics Interchange, Windows Bitmap, Tagged Image File and Jpeg. The tool is very flexible. It lets you to generate images of various resolutions to cater to different printers and applications.