Barcode Software and Fonts for Mac
ConnectCode Barcode Software uses Open Type computer fonts to create industrial grade barcodes for use on a Mac. Using fonts to create barcodes is a well-known practice in the auto-id industry. When a barcode - created using a font - is printed, it rasters to the resolution of the printer and will not be limited to the DPI (Dots per Inch) of an image. This results in barcodes that are of the highest quality and are able to meet the strictest requirements of many organizations and businesses. Moreover, barcode fonts can be easily embedded into a graphics, an office or business document, enabling the barcode generation process to fit into your business workflow seamlessly.
ConnectCode Barcode Software uses the highly acclaimed barcode fonts engine developed by ConnectCode. This engine has over the years helped many companies clear their independent barcode verification tests such as those by GS1/ISO and is widely adopted by many Fortune 500 companies.
I have used several bar code font applications over the past 20 years and found that ConnectCode is the cleanest solution I have found. It works perfectly with Crystal Reports and doesn't have any issues embedding the bar code fonts into a PDF. –T.M. (BrassCraft)

ResMed is a signatory to GS1 so the support of these barcode formats is very important. I showed this to one of our IT staff and he commented that it was better than anything they had. –Dr P.S. (ResMed Ltd)

We chose to use your product because it installed flawlessly into excel and we were able to document the creation process so that staff can produce the barcodes in 4 simple steps. –Edgar (CTO - Record Guardian Inc.)

The font allows for the barcode to be consistantly sized and placed regardless of what data the initial page of the document uses to generate its code. –Glyn Rowling (Amethyst Mailing)
See the complete feedbacks from our satisfied customers
Why should I use your barcode software and fonts?
Industry Specifications Adherence
ConnectCode has developed and marketed barcode software solutions for many years. You can be assured of the adherence to the industry specifications of our barcodes. Our barcode software and fonts are trusted and highly regarded by many Fortune 500 companies. We have also helped many of these companies clear their institution audits and independent barcode verifications. These are vigorous tests and require both expertise and experience of the industry. With each test, our products improve in terms of quality and stability. As a matter of fact, most of our customers are extremely happy and truly satisfied with our products. They have also been with us for many years.

Simplicity
Ease of use has always been an important consideration in ConnectCode. The fonts have been designed in such a way that you can specify a barcode by keying in the characters directly. We also provide many tools and utilities to ease the barcode creation process into your workflow. Whether you are using Word, Excel, iWork Numbers, Pages, Adobe Creative Suite, Command Line utilities or developing an App for the App Store, you can be assured that we provide you with the necessary components to generate industrial grade barcodes easily.

Barcode Fonts
Using fonts to generate barcodes is well known in the auto-id industry. When a font is printed, it rasters to the resolution of the printer and will not be limited to the DPI (Dots per Inch) of the device screen. This ensures the generated barcode is of the highest quality and can meet the strictest requirements required by the auto-id industry. Barcodes - generated using fonts - has proven itself in the industry to easily pass the verification tests and institutional audits by organizations such as GS1/ISO.


Getting Started
Frequently Asked Questions
Barcode Fonts
Download Connectcode Barcode Lite - Free
This is a free version known as Connectcode Lite which supports the Code 39, Industrial 2 of 5 and POSTNET barcodes.
Download Connectcode Barcode Software
This is the professional version that supports all the commonly used linear barcodes (including all major variations) such as Code 39, UPCA, EAN13, Code128, GS1 128, UCCEAN, I2OF5, ITF14 and GS1 Databar.
Download Connectcode Barcode Software Installers
Purchase Online
The following licenses are available on our Online Store:
Single User License - For using the barcode software and fonts by 1 User
Enterprise License - For using the barcode software and fonts by any number of Users within your organization.
Note: The Trial version contains limited number of barcode fonts and the generated barcodes will have horizontal lines (that do not affect scanning).
Supported barcodes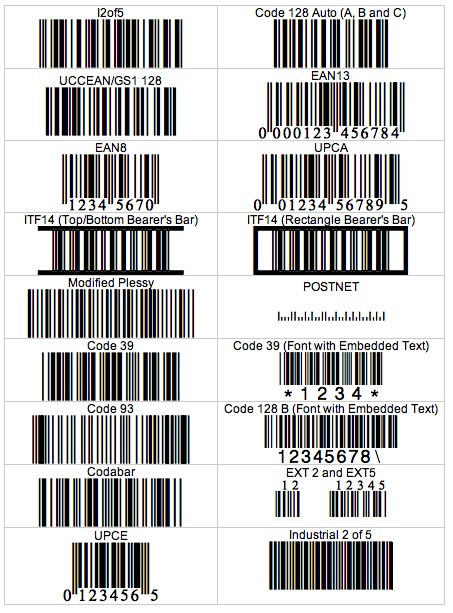 New
GS1 Databar 14
barcode!
Sample Font Variations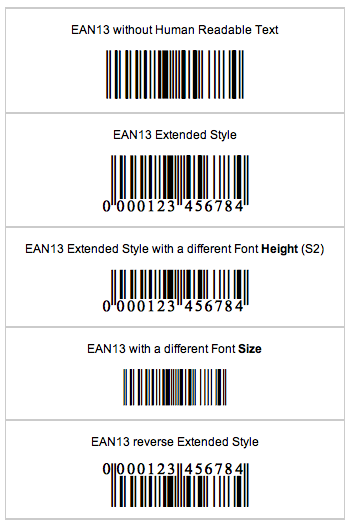 Others
Create Barcodes on Windows using Barcode Fonts