Barcode Fonts
ConnectCode Barcode Fonts is a professional True Type (TTF) and Open Type (OTF) Barcode Fonts package is designed for use in modern operating systems. It allows you to create different types of barcodes by selecting a font in your favorite text editor.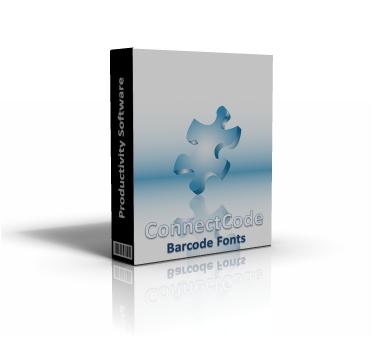 If you are a user of a previous version of ConnectCode (v11.x), please contact us for your free upgrade (v11.6).
Download Now
Buy Now
Brochure
I have used several bar code font applications over the past 20 years and found that ConnectCode is the cleanest solution I have found. It works perfectly with Crystal Reports and doesn't have any issues embedding the bar code fonts into a PDF. –T.M. (BrassCraft)

ResMed is a signatory to GS1 so the support of these barcode formats is very important. I showed this to one of our IT staff and he commented that it was better than anything they had. –Dr P.S. (ResMed Ltd)

We chose to use your product because it installed flawlessly into excel and we were able to document the creation process so that staff can produce the barcodes in 4 simple steps. –Edgar (CTO - Record Guardian Inc.)

The font allows for the barcode to be consistantly sized and placed regardless of what data the initial page of the document uses to generate its code. –Glyn Rowling (Amethyst Mailing)
See the complete feedbacks from our satisfied customers
Using ConnectCode Barcode Fonts
ConnectCode Barcode Fonts can be used in ALL the following scenarios for creating barcodes that adhere to industry specifications.
With MS Excel (Formulas) - Excel 2007, 2010, 2013, 2016, 2019 or Office Excel 365

Note - The above is the RECOMMENDED way for creating barcodes in Excel on the Desktop.


With MS Excel (Formulas) - Excel 2002, 2003 or XP


With App for Office - Office 2013, 2016, 2019, Office 365


With Office Barcode Add-In - Office 365 Desktop (new!)


With Excel Custom Functions - Office 365 Web


With Crystal Reports



Both Crystal Reports and Crystal Reports for Visual Studio are supported




With Barcode & Label app - Professional Labeling





With the Console, Command Prompt, or Shell Scripts



Create barcodes with a running number


Create barcodes with data stored in a text file

With Microsoft .NET Framework/SDK


With WinUI - new!


With SQL Server T-SQL - new!


With SQL Server Reporting Services (SQL Server 2005-2012)



RDL Reports (Refer to the Help file for a complete tutorial)


RDLC Reports

With SQL Server Reporting Services (SQL Server 2016-2019) - new!


With Modern Web / Progressive Web Applications (PWA) / Single Page Applications (SPA)


Using the Barcode Web Fonts - (Web, iOS, Android, Windows, and Mac)


Create Barcodes on Linux - new!


Create Barcodes on Mac - new!


Useful Information
Font Formats
ConnectCode Barcode Fonts are available in TrueType, OpenType, Postscript, WOFF, and WOFF2.
Commonly-asked questions on barcode/barcode software from a Business perspective
Frequently Asked Questions (FAQ)
Latest updates on GTIN
Barcodes Supported
What is a Barcode Font?
A barcode font is a font designed from the ground up to create barcodes using a string of characters. Each character in a barcode font uniquely represents a series of alternating black and white patterns. By combining black and white patterns from text characters, a barcode can be created. A font offers unique properties for controlling the spacing between characters, character width, height, and font size, making it an ideal medium for creating quality barcodes that comply with the strictest requirements of the auto-id industry standards.
With a barcode font, creating a barcode is as simple as loading up a text editor such as Word, specifying a text and applying a font. An important thing to note is that there are many different types of barcodes, some may require a mandatory check digit, others may require an input to support numbers-only or upper-case characters. To ensure compliance with different industry standards, the input text can be validated and a check digit automatically generated by an application (an Encoder).
ConnectCode barcode fonts package provides a standalone Encoder to ease the encoding process, and also bundles other tools such as Add-in for Excel for mass converting columns of data into barcodes. Many Fortune 500 companies use ConnectCode's SDKs, libraries, and report formulas in their line-of-business (LOB) applications, mobile apps, web, and reporting tools for creating barcodes using fonts, a well-known practice in the industry for creating the highest quality barcodes.
Why use ConnectCode?
Industry Specifications Adherence

ConnectCode's barcode fonts are proven in the industry for many years and trusted by many Fortune 500 companies around the world for creating barcodes that comply strictly with GS1, AIMS, and ISO standards.


Versatility

ConnectCode works with a wide variety of tools and applications such as Microsoft Office, Adobe Creative Suite, Crystal Reports, and label software. It integrates with many different platforms such as .NET, Javascript, PowerBuilder, Web, Windows, iOS, Mac, Android, and Linux. A high-resolution image generator is provided in rare circumstances where a font is not supported, and a professional labeling software is available for designing labels with the barcode fonts.


Huge barcode fonts selection

ConnectCode provides a huge collection of barcode fonts, over 100 in total, with multiple barcode fonts for each barcode symbology. UPCA and EAN13 barcodes come with fonts that support both Standard and Extended style barcodes. Code 39, Code 128B, and I2of5 barcodes come with fonts that embed the human-readable-text commonly found below a barcode. The barcode fonts are available in True Type, Open Type, PostScript, and WOFF/WOFF2 formats.


Elegant Simplicity

Ease of use has always been an essential consideration in ConnectCode. Everything is designed to keep things elegantly simple and easy to use. The focus has always been for ConnectCode's tools to adapt to your business instead of requiring your business to fit into our solution.