Press Release
01-June-2021

Leading barcode software introduces cloud Barcode Add-In for Office 365 and barcode creation in WinUI

ConnectCode, a world-leading provider of barcode fonts and software, today announced the release of a new version (v11.6) of ConnectCode Barcode Fonts and Software. This version introduces barcode creation using fonts on Office 365 with a cloud-based Barcode Add-In and Microsoft Windows UI (WinUI) projects with a WinUI Barcode Class Library.

The new cloud-based Office Barcode Add-In enables Office 365 Excel users to create barcodes using fonts with ease. Barcodes created using fonts adhere strictly to the industry specifications, and is a best practice adopted widely in the auto-id industry to enable you to generate high quality barcodes. The Barcode Add-In aids users by generating check characters, adding start/stop characters, validating input characters, and ensuring compliance. The Barcode Add-In utilizes Microsoft Excel Custom Functions framework and allows installation via the cloud to Office 365 on Windows, Mac, and Web.

More information on the new Office Barcode Add-In is available at:

https://barcoderesource.com/officebarcodeaddin.shtml

The existing and popular VBA Barcode Add-In is also available to all users of Microsoft Office.

https://barcoderesource.com/excelbarcodefont.shtml

In recent years, Microsoft has introduced Windows UI (WinUI), a user experience framework that combines existing Win32 Desktop and Universal Windows Platform (UWP) APIs for building modern Windows apps. This enables developers to share a common API for developing User Interfaces and publishing apps to Microsoft Store. On top of that, demand from developers to ship their apps to as many users as possible and not be tied to a specific version of Windows has resulted in WinUI (as of WinUI 3.0) being decoupled from the Windows Operating System and is shipped independently as part of Microsoft Project Reunion.

The new version of ConnectCode Barcode Software and Fonts ships with a WinUI 3.0 compliant Barcode Class Library. This class library, together with barcode fonts, enables Windows developers to create standards-compliant barcodes with ease, confidence, and consistency. The class library aids developers by performing the tasks of validating input data, generating check digits, and adding necessary start/stop characters with ease. The barcodes created adheres to industry specifications inspiring confidence. Finally, a barcode, created using fonts, looks and prints the same across different platforms such as Windows, iOS, Mac, Android, Web, and Reporting Tools. This is important to organizations on heterogeneous technology platforms that value consistency. More information on WinUI Barcode Class Library is available at the following:

https://barcoderesource.com/winuibarcode.shtml

Besides Office 365 and WinUI, ConnectCode Barcode Fonts and Software package also supports the creation of barcodes on a wide variety of tools and platforms such as Crystal Reports (https://barcoderesource.com/crystalreportsbarcode.shtml), PowerBuilder, SQL Server, Reporting Services, JavaScript, Typescript, Oracle PL/SQL, iOS, Android, and .NET. Third-party software such as Microsoft Excel, Microsoft Word, Adobe Illustrator, and Adobe Photoshop can also utilize the creation of barcodes using fonts.

ConnectCode also provides Barcode & Label, a WYSIWYG label app for Windows that integrates with the barcode fonts for enterprise labeling.

https://www.barcoderesource.com/barcodelabelapp.shtml

Installers for Windows, Mac, and Linux versions of the barcode software and fonts are available to companies on a hybrid environment. A silent installer for enterprise deployment is also available upon request.

Email

info@barcoderesource.com

Web site

https://www.barcoderesource.com

Windows

https://www.barcoderesource.com/barcodefont.shtml

Mac

https://barcoderesource.com/barcodesoftwaremac.shtml

# # #


26-January-2021

ConnectCode barcode fonts and software releases support for Apple M1 Macs

ConnectCode, a world-leading provider of barcode fonts and software, announced the release of Connectcode Barcode Fonts and Software that supports Apple M1 Macs. The new version enables Apple Mac users to use ConnectCode's award-winning barcode fonts and software to create barcodes in Office for Mac (Excel and Word), iWork (Numbers and Pages), Adobe Creative Cloud, and many other Mac applications. Support for third-party developer integration through an Apple XCFramework library, Command Line Terminal tool, standalone Font Encoder, and Javascript library are also provided.

Connectcode Barcode Fonts and Software is a popular and unique barcode package that strictly uses fonts to generate barcodes. This font package has helped many graphics designers create high-quality barcodes in their product packaging and design documents. It has also provided many businesses an easy way to clear third-party institutional barcode verification tests such as those specified by GS1.

Using fonts to create barcodes is a well-known practice in the auto-id industry to generate barcodes that meet the strictest requirements of the specifications. When a font is printed, it rasters to the resolution of the printer and will not be limited to the DPI (Dots per Inch) of the computer screen. Fonts also allow line-of-business applications and reporting tools to integrate with the barcode package easily. Over the years, Connectcode Barcode Fonts and Software has become the leading brand for creating enterprise-grade barcodes and is highly regarded by many Fortune 500 companies worldwide.

Besides supporting Apple M1 Mac on macOS Big Sur (11.0+), ConnectCode Barcode Fonts and Software also supports previous versions of Mac i.e., from macOS Sierra (10.12) to macOS Catalina (10.15). On top of that, Connectcode Barcode Fonts and Software also works on Windows and Linux platforms. This cross-platform support & compatibility enables businesses the flexibility of deploying a consistent barcode solution to heterogeneous operating system environments.

Connectcode Barcode Fonts and Software works with a wide variety of tools on different operating system platforms such as Crystal Reports, Reporting Services, Report Builder, SQL Server Data Tools, JavaScript, Typescript, Oracle PL/SQL, Azure Cloud, Access, Office 365 Excel/Word, React, Polymer, WebAssembly, Emscripten, PowerBuilder, Adobe Illustrator, Adobe Photoshop, .NET Core, Xamarin, .NET MAUI, Blazor, and Angular. The barcode fonts are available in OpenType, TrueType, and Web Open Font Format (WOFF/WOFF2).

Email
info@barcoderesource.com

Web site
https://www.barcoderesource.com

Mac
https://www.barcoderesource.com/barcodesoftwaremac.shtml

Windows
https://www.barcoderesource.com/barcodefont.shtml

Barcode & Label - A WYSIWYG label software for Windows - integrates with Connectcode Barcode Fonts and Software to provide enterprise labelling capabilities.

https://www.barcoderesource.com/barcodelabelapp.shtml

Linux
https://www.barcoderesource.com/linuxbarcodefont.shtml

# # #


11-February-2020

Leading Barcode Software creates barcodes using fonts on SQL Server T-SQL, .NET Core 3.0, and Blazor

ConnectCode, a world leading provider of barcode fonts and software, today announced the release of a new version (v11.5) of ConnectCode Barcode Fonts and Software. This version introduces high quality barcode creation using fonts on SQL Server T-SQL, .NET Core 3.0, and Blazor.

The new version provides a .NET Core 3.0 compliant barcode library available as a standalone DLL (Dynamic Link Library) in the package and in nuget.org. This DLL enables developers to easily create barcodes using fonts in all the different .NET Core cross-platform scenarios such as ASP.NET Core web apps, command-line apps, libraries, WinForms, Windows Presentation Framework, and Universal Windows Platform apps. It is worth noting that creating barcodes using fonts is a well-known practice in the auto-id industry for generating barcodes of the highest quality that adhere strictly to the industry specifications. More information on the .NET Core Barcode library is available at:

https://www.barcoderesource.com/NETCoreBarcode.shtml

A tutorial on how to use the .NET Core Barcode library in an ASP.NET Core project is available below:

https://www.barcoderesource.com/aspnetcore.shtml

Moreover, the .NET Core Barcode Library also supports Blazor, the latest WebAssembly based front-end web application framework created by Microsoft.

https://www.barcoderesource.com/blazorbarcode.shtml

The latest version of ConnectCode Barcode Software and Fonts package also comes bundled with T-SQL Barcode Functions (Scalar Functions) to help SQL Server and SSRS (SQL Server Reporting Services) developers create high quality barcodes using fonts. The barcode T-SQL functions perform tasks of validating input data, adding check characters and the necessary start/stop characters. More information on how to create barcodes in SQL Server using the T-SQL functions can be found below:

https://www.barcoderesource.com/tsql_barcode.shtml

Besides .NET Core, T-SQL and Blazor, ConnectCode Barcode Fonts and Software package also supports the creation of barcodes on a wide variety of tools and platforms such as Angular, Excel, Office Custom Functions, Access, Crystal Reports, Word, Office 365 Add-In, React, Polymer, WebAssembly, Emscripten, PowerBuilder, Adobe Illustrator, Adobe Photoshop, Reporting Services, Report Builder, SQL Server Data Tools, JavaScript, HTML5, Typescript, jQuery, Command Prompt, Oracle PL/SQL, Microsoft Azure Cloud, and Barcode & Label app. The Barcode & Label app is a What-You-See-Is-What-You-Get label software that provides all commonly used labeling capabilities such as Label Templating, Serialized Counters, Print-Time Input, Excel (or CSV) data printing, and People's app integration.

Installers for Windows, Mac and Linux versions of the barcode software and fonts are available for companies on hybrid environment. A silent installer for enterprise deployment is also available upon request.

Traditionally, ConnectCode Barcode Software and Fonts package comes bundled with fonts that support the creation of all commonly used linear barcodes. This includes the UPCA barcode and the EAN13 barcode in both the Standard (without human readable text) and Extended Style (with human readable text in Serif Typeface) formats. With feedback gathered from graphics designers over the years, the new version has over 20 new fonts that support the Extended Style EAN13 and UPCA barcode with Sans-Serif typeface and blank/empty typeface. The Sans-Serif typeface based UPCA and EAN13 barcode fonts provide graphics designers with more flexibility in matching their font choices to their retail package design while the blank/empty typeface based fonts goes a step further in enabling graphics designers to use their own custom font for the human readable text.

The EAN13 and UPCA barcodes with the different typeface are shown below: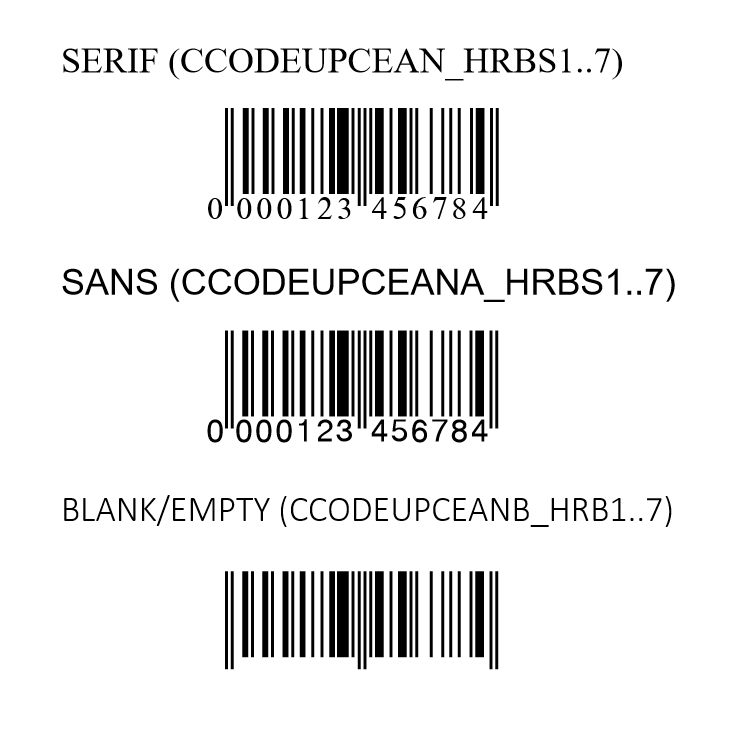 Barcode Fonts Format PostScript (Type 1)
TrueType
OpenType
Web Open Font Format (WOFF)
Web Open Font Format 2.0 (WOFF2)

System Requirements
256 MB RAM
100 MB of Disk Space

Windows
Windows 7, 8 or 10
Windows Server 2003, 2008, 2012, 2016 or 2019

Mac
OS X 10.6-10.15
macOS Sierra (or Later)

Linux
Ubuntu Linux 18.04 (or later)
RedHat Enterprise Linux 8.0 (or later)
Debian Linux 9.0 (or later)

Email
info@barcoderesource.com

Web site
https://www.barcoderesource.com

Product Information
https://www.barcoderesource.com/barcodefont.shtml

Linux Companion Package
https://www.barcoderesource.com/linuxbarcodefont.shtml

Barcode & Label app (requires Windows 10)
https://www.barcoderesource.com/barcodelabelapp.shtml

# # #



13-August-2019

Leading Barcode Software introduces barcode creation on Linux, Polymer Web Components and Excel Custom Functions

ConnectCode, a world leading provider of barcode fonts and software, today announced the release of a new version (v11.4) of ConnectCode Barcode Fonts and Software. This version introduces high quality barcode generation using fonts on Linux, Polymer Web Components, and Microsoft Office Online.

For Linux, a brand-new companion package that supports all major Linux distros is now available. The companion package comes with barcode fonts (True Type, Open Type, PostScript and WOFF), a Linux Console Barcode Font Encoder, framework supporting tools (React, Angular, TypeScript and WebAssembly) and SDKS libraries (.NET, Java and Oracle) that enable developers to easily embed ConnectCode's proven barcode fonts engine in their enterprise applications running on Linux.

https://www.barcoderesource.com/linuxbarcodefont.shtml

Besides the support for barcode generation on desktop versions of Microsoft Excel through Excel formulas, ConnectCode Barcode Fonts and Software now supports Office Online through Excel Custom Functions. ConnectCode's suite of Custom Functions assists users in creating high quality barcodes by generating necessary check characters and ensuring strict industry compliance.

https://barcoderesource.com/officeexcelcustomfunctions.shtml

The new version of ConnectCode Barcode Fonts and Software also provides component source files and barcode fonts for the creation of World Wide Web (W3C) compliant Barcode Web Components with Google Polymer. The Web Component source files leverage on ConnectCode proven barcode fonts engine and use the latest Polymer LitElement and lit-html capabilities to create Web Components which are fast, lightweight and interoperable with any frameworks.

https://www.barcoderesource.com/webcomponent.shtml

Besides Excel Custom Functions and Polymer Web Components, ConnectCode Barcode Fonts and Software package also supports the creation of barcodes on a wide variety of tools and platforms such as Angular, Excel, Access, Crystal Reports, Word, Office 365 Add-In, React, WebAssembly, Emscripten, PowerBuilder, Illustrator, Photoshop, .NET Standard, .NET Core, Blazor, Reporting Services, SQL Server, SQL Server Data Tools, JavaScript, HTML5, Typescript, jQuery, Command Prompt, Oracle PL/SQL, Microsoft Azure Cloud, and Barcode & Label app. The Barcode & Label app is a What-You-See-Is-What-You-Get label software that provides all commonly used labeling capabilities such as Label Templating, Serialized Counters, Print-Time Input, Excel (or CSV) data printing, and People's app integration.

Installers for Windows, Mac and Linux versions of the barcode fonts are available for companies on hybrid environment. A silent installer for enterprise deployment is also available upon request.

System Requirements
256 MB RAM
100 MB of Disk Space

Windows
Windows 7, 8 or 10
Windows Server 2003, 2008, 2012, 2016 or 2019

Mac
OS X 10.6-10.11
macOS Sierra (or Later)

Linux
Ubuntu Linux 18.04 (or later)
RedHat Enterprise Linux 8.0 (or later)
Debian Linux 9.0 (or later)

Email
info@barcoderesource.com

Web site
https://www.barcoderesource.com

Product Information
https://www.barcoderesource.com/barcodefont.shtml

Barcode & Label app (requires Windows 10)
https://www.barcoderesource.com/barcodelabelapp.shtml

# # #


15-January-2019

Leading Barcode Software introduces barcode generation in Angular and WOFF2
ConnectCode, a world leading provider of barcode software and fonts, today announced the release of a new version (v11.3) of ConnectCode Barcode Software and Fonts. This version introduces barcode generation for Single Page Applications (SPA) using Angular and barcode fonts in Web Open Fonts Format 2 (WOFF2).

Angular is a JavaScript/TypeScript-based front-end web application framework maintained by Google and the open source community for developing Single Page Applications. It is widely adopted and used by many front-end web developers for building modern web applications. ConnectCode Barcode Software and Fonts package provides ready-to-use Angular Barcode Components for generating all commonly used linear barcodes. These components include the complete Typescript source for validating input data and generating check characters, Cascading Style Sheet (CSS), Angular Component Source, HTML template files and World Wide Web Consortium (W3C) compliant barcode web fonts. With all the parts of a complete barcode component, an Angular developer can easily use and deploy the barcode components without changes or integrate these parts into existing components to generate barcodes.

More information on ConnectCode Angular Barcode Components is available at the following:

https://www.barcoderesource.com/angular.shtml

ConnectCode Barcode Software and Fonts has since the early days provided barcode fonts in TrueType (TTF), PostScript (PS), OpenType (OTF) and Web Open Fonts Format (WOFF). Using fonts to generate barcodes is well known in the auto-id industry. When a font is printed, it rasters to the resolution of the printer and will not be limited to the DPI (Dots per Inch) of the device screen. This ensures the generated barcodes is of the highest quality and can meet the strictest requirements required by the auto-id industry. Barcodes generated using fonts has proven itself in the industry to easily pass the verification tests and institutional audits by organizations such as GS1.

The latest version of ConnectCode also provides barcode web fonts in Web Open Fonts Format 2 (WOFF2). This new format by W3C improves on the original format by optimizing compression and lowering network bandwidth, while still allowing fast decompression. On average, the barcode fonts in WOFF2 format are 30% smaller in file size and allows for significant optimizations for fast web page loading. These improvements are important for building fast web applications for mobile devices.

More information on Web Open Fonts Format 2 (WOFF2) Barcode Fonts is available at the following:

https://www.barcoderesource.com/webopenfontformat2_woff2.shtml

Besides Angular and WOFF2, ConnectCode Barcode Software and Fonts package also supports the creation of barcodes on a wide variety of platforms and tools such as Crystal Reports, Excel, Access, Word, Office 365, React, WebAssembly, PowerBuilder, Illustrator, Photoshop, .NET Standard DLL, .NET Core, Reporting Services, SQL Server, SQL Server Data Tools, JavaScript, HTML5, Typescript, jQuery, Command Line, Oracle PL/SQL and Azure Cloud.

A full-fledged WYSIWYG (What-You-See-Is-What-You-Get) labeling app that works with the barcode fonts is also available on the Windows Store. The app provides all the commonly used labeling capabilities such as label templating, and supports printing of labels using data stored in Excel, CSV and People's app. Capabilities such as generation of Serialized Counters and entering of input data into labels during Print-Time are also fully supported.

Windows Store Universal Barcode & Label app

https://www.barcoderesource.com/barcodelabelapp.shtml

A Mac version of the barcode fonts is also available for companies on hybrid environment of both Windows and MAC. A silent installer for enterprise deployment is also available on request.

System Requirements


Windows 7, Windows 8, Windows 10
Windows Server 2003, 2008, 2012 or 2016
256 MB RAM
100 MB of Hard Disk space
The Universal Barcode & Label app requires Windows 10 or onwards
Email
info@barcoderesource.com

Website
https://www.barcoderesource.com

Product Information
https://www.barcoderesource.com/barcodefont.shtml

Universal Barcode & Label app
https://www.barcoderesource.com/barcodelabelapp.shtml

# # #

About ConnectCode Pte Ltd ConnectCode is well known in the industry for providing barcode software and fonts that are trusted and highly regarded by many Fortune 500 companies and organizations around the world. Many companies have adopted ConnectCode's barcode products for its accuracy, robustness and ability to reduce time and effort required for clearing institutional audits and third-party barcode verifications. The team consists of very talented personnel from both the auto-id and software industry. All software products are developed in house and adhere to the "Elegantly Simple" design principles.

ConnectCode Pte Ltd
1 Scotts Road #24-10,
Shaw Centre
Singapore 228208


15-August-2018

Leading Barcode Software introduces barcode generation in WebAssembly and ReactJS for Progressive Web Applications
ConnectCode, a world leading provider of barcode software and fonts, today announced the release of a new version (v11.2) of ConnectCode Barcode Software and Fonts. This version introduces barcode generation for the modern web/Progressive Web Applications (PWA) using WebAssembly and React (ReactJS).

WebAssembly is a web standard, developed by the World Wide Web Consortium (W3C), that defines an assembly-like binary code format, wasm, for execution in web pages. The executing code runs as fast as native machine code and is meant to optimize performance of web applications significantly. wasm is natively supported by all major browsers e.g. Firefox, Chrome, Safari and Edge.

The new version of ConnectCode introduces a WebAssembly wasm module that generates industry compliant barcodes on web pages or web applications. The wasm barcode module encodes the input data, validates input data, adds check characters, adds start/stop characters, and generates output characters to be displayed as barcodes. Together with W3C compliant barcode fonts, the module enables front end web developers to generate barcodes of the highest quality that meets the strictest requirements of all the industry specifications.

https://www.barcoderesource.com/WebAssembly_wasm.shtml

Besides WebAssembly, the latest version of ConnectCode also provides Javascripts and React Components to help web developers generate industry compliant barcodes in React (ReactJS/JSX) applications. React is a popular open source JavaScript library maintained by Facebook and the community for building user interfaces on the web. It has been adopted by many high traffic websites and garnered high interest by modern web developers.

React developers will be able to use the React Components provided by ConnectCode to integrate directly with their applications or use the W3C barcode fonts and Javascripts to create their own custom React components.

https://www.barcoderesource.com/reactjs.shtml

With the introduction of WebAssembly and React components, and together with the previous Javascript, TypeScript and jQuery modules, ConnectCode continues to pushed the envelope in high quality and industry compliant barcode generation on web pages, Single Page Applications (SPA) and Progressive Web Applications

Besides WebAssembly and React, ConnectCode Barcode Software and Fonts package also supports the creation of barcodes on a wide variety of platforms and tools such as Powerbuilder, Crystal Reports, Office Excel, Word, Access, Illustrator, Photoshop, .Net DLL, Reporting Services, SQL Server, SQL Server Data Tools (SSDT), Javascript, Windows Universal Barcode & Label app, HTML5, Typescript, jQuery, Windows Command Prompt, Oracle PL/SQL, Microsoft Azure Cloud, and Image Generator. A Mac version of the barcode fonts is also available for companies on hybrid environment of both Windows and Mac. A silent installer is also available on request.

System Requirements


Windows 7, Windows 8, Windows 10
Windows Server 2003, 2008, 2012 or 2016
256 MB RAM
100 MB of Hard Disk space
The Universal Barcode & Label app requires Windows 10 or onwards
Email
info@barcoderesource.com

Website
https://www.barcoderesource.com

Product Information
https://www.barcoderesource.com/barcodefont.shtml

Universal Barcode & Label app
https://www.barcoderesource.com/barcodelabelapp.shtml

# # #
About ConnectCode Pte Ltd ConnectCode is well known in the industry for providing barcode software and fonts that are trusted and highly regarded by many Fortune 500 companies and organizations around the world. Many companies have adopted ConnectCode's barcode products for its accuracy, robustness and ability to reduce time and effort required for clearing institutional audits and third-party barcode verifications. The team consists of very talented personnel from both the auto-id and software industry. All software products are developed in house and adhere to the "Elegantly Simple" design principles.


ConnectCode Pte Ltd
1 Scotts Road #24-10,
Shaw Centre
Singapore 228208




21-March-2018

Leading barcode software updates Windows 10 app to print labels with data stored in CSV and Excel files
ConnectCode, a world leading provider of barcode software and fonts, today announced the release of a new version (v11.1) of ConnectCode Barcode Software and Fonts.

This version introduces a new and powerful Label Wizard in the Barcode & Label app to ease the tedious steps of label creation with data stored in a CSV file, an Excel file or Microsoft's People app.

The Label Wizard offers over 900 commonly used label templates including Price Labels, Address Labels, Inventory Tags, Business Cards and labels from well-known brands/vendors. After choosing a label template, the user can proceed to select the location of where their data is stored. This could be a CSV file, an Excel file or contacts stored in Microsoft People's app. Upon selection, the Label Wizard will automatically generate Text objects that correspond to the columns of the file or contact fields in People's app. This generated label is immediately ready for printing or can be further touched up with the full-fledged WYSIWYG label designer.

The latest version of Barcode & Label also supports applying functions to imported data. For example, functions to round a number, format to a currency or pad characters are supported.

It is important to note that different countries use different ways to format numbers. For example some countries use a dot to represent a decimal point while some countries use a comma to represent a decimal point. For currency, besides different currency symbols, different countries have different requirements such as the number of decimal points and the placement of the currency symbol. Barcode & Label adopts an in-depth approach of supporting all the different variations through a simple and elegant Location setting.

Barcode & Label is available as part of ConnectCode Barcode Fonts and Software package and can be downloaded from Microsoft Store.

https://www.barcoderesource.com/barcodelabelapp.shtml

Barcode & Label also supports printing of standards compliant barcodes through ConnectCode's award-winning barcode fonts engine.

This engine generates barcodes of the highest quality barcodes that meet the strictest auto-id requirements. The following is a list of the barcodes supported:


Codabar
Code39
Code39 Extended
Code93
Code128 A, B, C or Auto
UCCEAN
Interleaved 2 of 5
Industrial 2 of 5
ITF14
Modified Plessy
POSTNET
EAN 13 (European Article Numbering)
EAN 8
UPCA (Universal Product Code)
UPCE
ISBN, ISSN, EXT2, EXT5
GS1 Databar 14 (Truncated, Limited, Stacked, Expanded)
Users of ConnectCode Barcode Fonts and Software can import their barcode fonts into the Barcode & Label app by following the tutorial below:

https://www.barcoderesource.com/importfonts_windowsstoreapp.shtml

Besides the Barcode & Label app, ConnectCode Barcode Software and Fonts package also supports the creation of barcodes on a wide variety of platforms and applications such as Appeon Powerbuilder, Crystal Reports, SAP Business Intelligence Reporting, Microsoft Excel, Microsoft Word, Microsoft Access, Microsoft Reporting Services, SQL Server, SQL Server Report Builder, Adobe Illustrator, Adobe Photoshop, .NET Standard, .NET Core, COM, Javascript/HTML, Web Fonts, Typescript, jQuery, Command Prompt, Oracle PL/SQL, Microsoft Azure Cloud, and Image Generator.

A Mac version of the barcode fonts is also available for companies on a hybrid environment that uses both Windows and Mac. For enterprise users, a silent installer is also available on request.

System Requirements


Windows 7, Windows 8, Windows 10
Windows Server 2003, 2008, 2012 or 2016
512 MB RAM
200 MB of Hard Disk space
Barcode & Label app requires Windows 10 or onwards.

Email
info@barcoderesource.com

Website
https://www.barcoderesource.com

Product Information
https://www.barcoderesource.com/barcodefont.shtml

# # #

About ConnectCode Pte Ltd
ConnectCode is well known in the industry for providing barcode software and fonts that are trusted and highly regarded by many Fortune 500 companies and organizations around the world. Many companies have adopted ConnectCode's barcode products for its accuracy, robustness and ability to reduce time and effort required for clearing institutional audits and third-party barcode verifications. The team consists of very talented personnel from both the auto-id and software industry. All software products are developed in house and adhere to the "Elegantly Simple" design principles.

ConnectCode Pte Ltd
1 Scotts Road #24-10,
Shaw Centre
Singapore 228208.




19-September-2017

Leading barcode software package introduces .NET Standard 2.0 compliant SDK
ConnectCode, a world leading provider of barcode software and fonts, today announced the release of a new version (v11.0) of ConnectCode Barcode Software and Fonts. This version introduces new capabilities such as a .NET Standard 2.0/.NET Core 2.0 compliant Barcode Software Development Kit (SDK), new Oracle PL/SQL scripts that support UTF8, .NET DLL for SQL Server Rdlc Reports and an updated Barcode & Label app on the Windows Store that supports printing of labels with variable data from CSV (comma-separated values) files.

.NET Standard is a specification of common APIs on the different .NET frameworks. As of .NET Standard v2.0, the .Net Standard specification has been implemented by many frameworks such as .NET Core, .NET Framework, Mono, Xamarin.iOS, Xamarin.Android, Universal Windows Platform. The new .NET Standard 2.0 compliant barcode SDK enables developers to use one programming library to target a wide variety of .NET programming platforms. The new barcode SDK is available as a nuget, the open source package manager for Microsoft Development platform, on nuget.org.

New Oracle PL/SQL scripts that support AL32UTF8 (NLS_CHARACTERSET) character set are provided in this version of ConnectCode Barcode Software and Fonts. This is on top of the existing PL/SQL scripts that uses the WE8ISO8859P1 character set. AL32UTF8 is the new character set recommended by Oracle for all new system deployment.

The .NET DLL bundled in the package for generating barcodes has also been updated to support the latest tools provided by Microsoft for creating Rdlc (Report Definition Language Client-side) reports. This includes the latest Visual Studio 2017 Rdlc Report Designer and the standalone SQL Server 2016 Report Builder.

Barcode & Label, a free Windows Store app, that enables users to design labels and print barcodes with a standalone application has also been updated. The existing version supports printing of labels with data in an Excel spreadsheet, contacts from Microsoft People's app, data entered at print time or using a serialized running number. The new version supports printing of labels with data from a CSV (comma-separated values) file.

Barcode & Label comes huge label stock database for creating Price Labels, Address Labels, Inventory Tags and Business Cards quickly and easily. It is equipped with a modern WYSIWYG label designer and supports printing of standards compliant barcodes through ConnectCode's award-winning barcode fonts engine. The engine generates barcodes using fonts and allows high quality barcodes that meet the strictest auto-id requirements.

Barcode & Label is available in the Windows Store for free and also as part of ConnectCode Barcode Fonts and Software package.

www.barcoderesource.com/barcodelabelapp.shtml

Existing users of ConnectCode Barcode Fonts and Software can import their barcode fonts into the app by following the tutorial below:

www.barcoderesource.com/importfonts_windowsstoreapp.shtml

Besides the Barcode & Label app, ConnectCode Barcode Software and Fonts package also supports the creation of barcode and labels on a wide variety of platforms and applications such as SAP Powerbuilder, Crystal Reports, Microsoft Excel, Word, Access, Adobe Illustrator, Adobe Photoshop, Microsoft Reporting Services, SQL Server, .NET Standard, .NET Core, COM, Javascript/HTML, Typescript, jQuery, Command Prompt, Oracle PL/SQL, Microsoft Azure Cloud, and Image Generator. A Mac version of the barcode fonts is also available for companies on a hybrid environment that uses both Windows and Mac. For enterprise users, a silent installer is also available on request.

System Requirements

Windows 7, Windows 8, Windows 10 Professional
Windows Server 2003, 2008, 2012 or 2016
256 MB RAM
100 MB of Hard Disk space

The Universal Barcode & Label app requires Windows 10 or onwards.

Email
info@barcoderesource.com

Website
www.barcoderesource.com

Product Information
www.barcoderesource.com/barcodefont.shtml

# # #

About ConnectCode Pte Ltd
ConnectCode is well known in the industry for providing barcode software and fonts that are trusted and highly regarded by many Fortune 500 companies and organizations around the world. Many companies have adopted ConnectCode's barcode products for its accuracy, robustness and ability to reduce time and effort required for clearing institutional audits and third-party barcode verifications. The team consists of very talented personnel from both the auto-id and software industry. All software products are developed in house and adhere to the "Elegantly Simple" design principles.

ConnectCode Pte Ltd
1 Scotts Road #24-10,
Shaw Centre
Singapore 228208.




10-January-2017

Leading barcode software provider updates UWP app to print labels with variable data entered at print time
ConnectCode, a world leading provider of barcode software and fonts, today announced the release of a new version (v10.9.5) of ConnectCode Barcode Software and Fonts. This version introduces new capabilities in the bundled Universal Windows Platform (UWP) Barcode & Label app to support printing of labels with variable data entered at print time.

When printing labels, a user often need to enter data only at print time. For example, a user may want to print a batch of labels with a specific product name and price, and then another batch of labels with a different product name and price. Barcode & Label supports this by allowing users to specify variable data at print time just before the print job is sent to the printer. The data entered can be specific to each individual label or used for a batch of labels. Both the Text and Barcode object in the app supports this data-at-print-time capability. Besides supporting variable data at print time, Barcode & Label also supports printing of labels with data in an Excel spreadsheet, contacts from Microsoft People's app or using a serialized running number.

Barcode & Label is a free and extremely popular Windows app that comes with a huge label stock database for creating Price Labels, Address Labels, Inventory Tags and Business Cards. It is equipped with a modern WYSIWYG label designer and supports printing of compliant barcodes through ConnectCode's award-winning barcode fonts engine. The engine generates barcodes using fonts and allows high quality barcodes that meet the strictest auto-id requirements.

Barcode & Label is available in the Windows Store for free and also as part of ConnectCode Barcode Fonts and Software package.

www.barcoderesource.com/barcodelabelapp.shtml

Existing users of ConnectCode Barcode Fonts and Software can import their barcode fonts into the app by following the tutorial below:

www.barcoderesource.com/importfonts_windowsstoreapp.shtml

Besides the Barcode & Label app, ConnectCode Barcode Software and Fonts package also supports the creation of barcode and labels on a wide variety of platforms and applications such as Powerbuilder, Crystal Reports, Office Excel, Word, Access, Illustrator, Photoshop, Reporting Services, SQL Server, .Net DLL, COM, Javascript/HTML, Typescript, jQuery, Command Prompt, Oracle PL/SQL, Microsoft Azure Cloud, and Image Generator. A Mac version of the barcode fonts is also available for companies on a mixed environment that uses both Windows and Mac.

System Requirements
Windows 7, Windows 8, Windows 10
Windows Server 2003, 2008, 2012 or 2016
256 MB RAM
100 MB of Hard Disk space
The Universal Barcode & Label app requires Windows 10 or onwards.

Email
info@barcoderesource.com

Website
www.barcoderesource.com

Product Information
www.barcoderesource.com/barcodefont.shtml

# # #

About ConnectCode Pte Ltd
ConnectCode is well known in the industry for providing barcode software and fonts that are trusted and highly regarded by many Fortune 500 companies and organizations around the world. Many companies have adopted ConnectCode's barcode products for its accuracy, robustness and ability to reduce time and effort required for clearing institutional audits and third-party barcode verifications. The team consists of very talented personnel from both the auto-id and software industry. All software products are developed in house and adhere to the "Elegantly Simple" design principles.

ConnectCode Pte Ltd
1 Scotts Road #24-10,
Shaw Centre
Singapore 228208.



12-January-2016

Leading barcode software provider updates Windows Store app to embrace Universal Windows Platform
ConnectCode, a world leading provider of barcode software and fonts, today announced the release of a new version (v10.8) of ConnectCode Barcode Software and Fonts. This version introduces a fully updated Windows Store app, Barcode & Label, that embraces Microsoft's Universal Windows Platform (UWP). By adopting Microsoft's Universal Windows Platform, Barcode & Label can run on PCs, tablets, phones, internet of things devices and the Xbox One consoles. This version targets PCs and tablets with mobile version to be released when Windows 10 Mobile is widely available worldwide.

Barcode & Label is a popular and free Windows Store app that is designed from the ground up to ease label creation and barcode printing. It comes with a huge label stock database for creating Address Labels, Price Labels, Inventory Tags and Business Cards. The app contains many advanced features such as WYSIWYG designer, Excel spreadsheet integration, modern label layout, People's app contacts import and serialized running number; all these features are only found in industrial strength label software. Barcode & Label works hand-in-hand with ConnectCode's award-winning barcode fonts engine. The engine generates barcodes using fonts and allows high quality barcodes that meet the strictest auto-id requirements, to be created and printed.

Barcode & Label can be downloaded from the following :

Barcode & Label Windows Store Universal app

Existing users of ConnectCode Barcode Fonts and Software can import their barcode fonts into the app by following the tutorial below:

Import Barcode Fonts into Barcode & Label

Besides the Universal Barcode & Label app, ConnectCode Barcode Software and Fonts package also supports the creation of barcodes on a wide variety of platforms and tools such as Microsoft Excel, Access, Word, Office 365, Crystal Reports, Adobe Illustrator/Photoshop, SQL Server, Reporting Services, .Net DLL, MFC (Microsoft Foundation Class), Javascript, Typescript, jQuery, Oracle PL/SQL, Command Prompt, Microsoft Azure, and PNG Image Generator. A silent installer is also available on request, for customers deploying to the enterprise.

A Mac version of the barcode fonts is also available for companies on a mixed environment that uses both Windows and Mac.

System Requirements

Windows 7, Windows 8, Windows 10
Windows Server 2003, 2008, 2012 or 2016
256 MB RAM
100 MB of Hard Disk space

The Barcode & Label app requires Windows 8.0/8.1

The Universal Barcode & Label app requires Windows 10

Email
info@barcoderesource.com

Website
www.barcoderesource.com

Product Information
www.barcoderesource.com/barcodefont.shtml

# # #

About ConnectCode Pte Ltd

ConnectCode is well known in the industry for providing barcode software and fonts that are trusted and highly regarded by many Fortune 500 companies and organizations around the world. Many companies have adopted ConnectCode's barcode products for its accuracy, robustness and ability to reduce time and effort required for clearing institutional audits and third-party barcode verifications. The team consists of very talented personnel from both the auto-id and software industry. All software products are developed in house and adhere to the "Elegantly Simple" design principles.

ConnectCode Pte Ltd
14 Robinson Road,
#13-00 Far East Finance Building
Singapore 048545


05-January-2015

Leading barcode software and fonts SDK available as a NuGet package
ConnectCode, a world leading provider of barcode software and fonts, today announced the release of its barcode fonts SDK as a NuGet package. The NuGet package, together with ConnectCode Barcode Fonts, allow creation of barcodes that raster to the resolution of the printer and are not limited to the Dots per Inch (DPI) of the devices' screens. The end result is the production of high quality barcodes that will meet the strictest requirements demanded by the auto-id industry.

NuGet is a package manager for the Microsoft development platform that makes the process of incorporating third party libraries into projects as simple as possible. By using NuGet, a developer can easily update packages as new updates become available and be assured of always using the latest versions of the libraries in a painless manner. As Nuget is free and open source, it has evolved into a large ecosystem of tools and services since its introduction. A tutorial on the use of the SDK with NuGet is available at the following:

www.barcoderesource.com/aspnetbarcodenuget.shtml

The SDK is also available as part of the ConnectCode Barcode Software and Fonts package. This package supports the creation of barcodes on a wide variety of platforms and tools such as Crystal Reports, Microsoft Excel, Typescript API, WinRT, Windows Store app, Microsoft Word, VBA Formulas, Microsoft Access, Adobe InDesign, Adobe Illustrator, SQL Server, Microsoft Reporting Service, .Net Framework, Microsoft Foundation Class (MFC), JavaScript, jQuery, Oracle PL/SQL, Command Line tool, and Barcode Image Generator.

Email
info@barcoderesource.com

Website
www.barcoderesource.com

Product Information
www.barcoderesource.com/barcodefont.shtml

# # #

About ConnectCode Pte Ltd

ConnectCode is well known in the industry for providing barcode software and fonts that are trusted and highly regarded by many Fortune 500 companies and organizations around the world. Many companies have adopted ConnectCode's barcode products for its accuracy, robustness and ability to reduce time and effort required for clearing institutional audits and third-party barcode verifications. The team consists of very talented personnel from both the auto-id and software industry. All software products are developed in house and adhere to the "Elegantly Simple" design principles.

ConnectCode Pte Ltd
14 Robinson Road,
#13-00 Far East Finance Building
Singapore 048545