Scrapbook & Photo Collage App for Windows Store
Scrapbook & Photo Collage is a WYSIWYG scrapbook designer and photo collage printing app. It allows you to easily layout your photos and add decorative embellishments for printing. An image can also be generated for sharing on your social media.




The app is equipped more than 70 templates, craft papers, textures and photos; over 60 handpicked fonts; over 100 cliparts; and over 500 scalable embellishments such as snowflakes, wreaths, stars, symbols and icons that can be used in scrapbook design. Together with the WYSIWYG designer, this powerful app allows you to create stunningly beautiful scrapbook pages and photo prints quickly and creatively.

Most of the scrapbook templates or photo layouts in the app are available in A4 and Letter size. This makes the app uniquely different from other apps as it enables you to print your layout easily on desktop printers. The templates automatically spice up the blank space around the photos containing your beautiful memories and creations on common paper size. Besides A4 and Letter size, the app is also equipped with a Page customization wizard to allow you to specify 3R, 4R and other desired sizes.






Tip : You can use the Two-Finger drag to scroll the page if you are using a touch device.



On a last note, we definitely have fun developing the app and we hope you enjoy using it too.


Help on using the Scrapbook & Photo Collage app
To use the Scrapbook Photo app, you can simply create a blank canvas page using the "Create New" button or tap on an existing template from the Gallery. The WYSIWYG scrapbook designer will be launched for you to modify text, photos and/or scrapbook embellishements. The screenshow below shows the scrapbook WYSIWYG designer.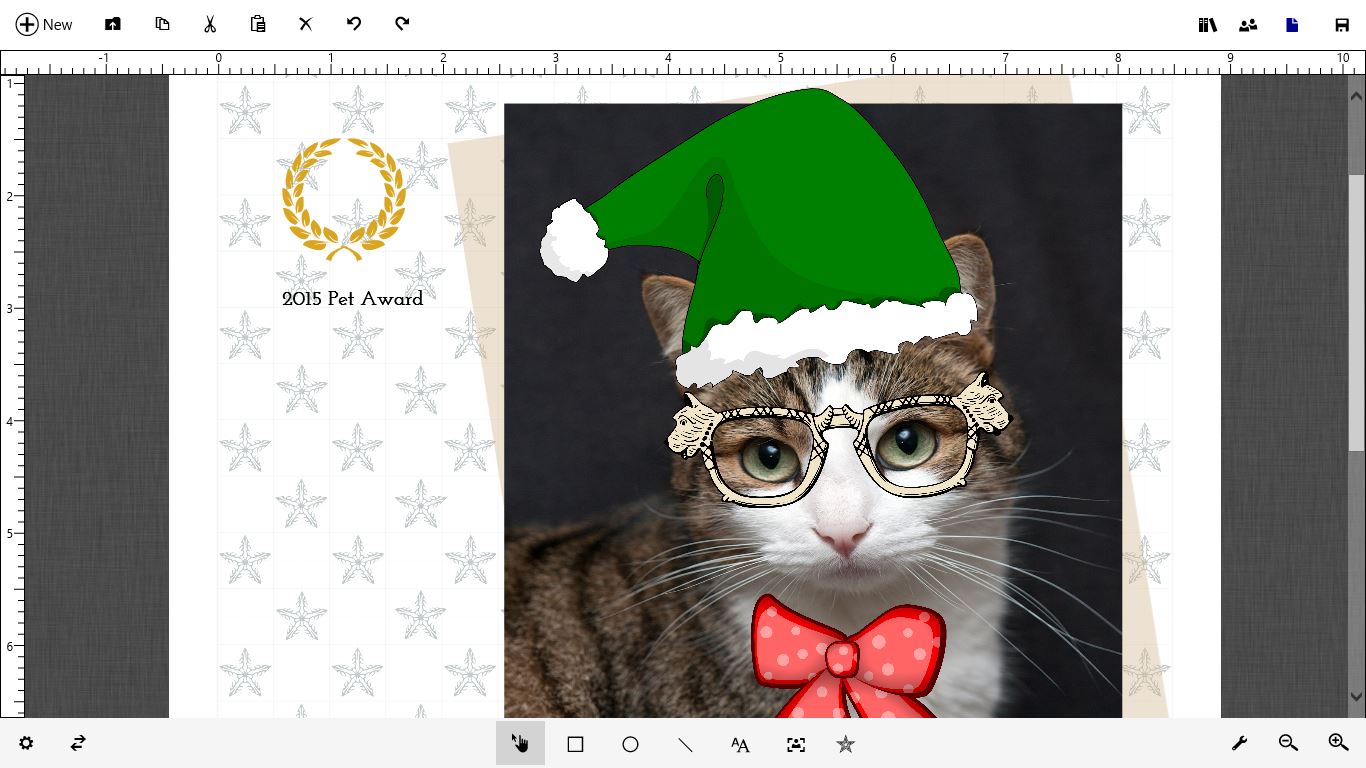 The bottom toolbar contains the different objects that you can add to your scrapbook. This includes rectangle, ellipse, line, text, image and scrapbook embellishment (symbol). To add an embellishment, simply tap on the "Star" button and then drag your finger or mouse onto the canvas.




Next, double tap on the object created on the canvas to bring up the Flyout properties. The Flyout properties allows you to select a different embellishment or change the color, size and opacity.





Some embellishments such as Emoticons come with pre-defined natural color. You can override the colors by checking on the "Do not use natural coloring" check box.





Besides applying color to the embellishment, you can also apply a Gradient or Image. This can be achieved by changing the "Symbol Fill Style". The following screenshot shows an image applied on different fruit embellishments.





The following screenshot illustrates a small sample of the different embellishments available.